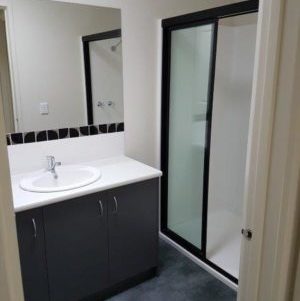 Granny Flat Bathrooms
4 Sep, 2018
Granny Flat Bathrooms – Where Style Meets Functionality
We spend a lot of time in the bathroom – we start and finish our days in this small, but vital room. And granny flat bathrooms are no exception.
Creating a practical space in granny flat bathrooms should not mean having to compromise on style or quality. You want your new home to feel spacious and luxurious, whatever the size.
But where do you start when deciding on your bathroom features and style? To help, we've found some of our favourite granny flat bathrooms, and put them in one place just for you!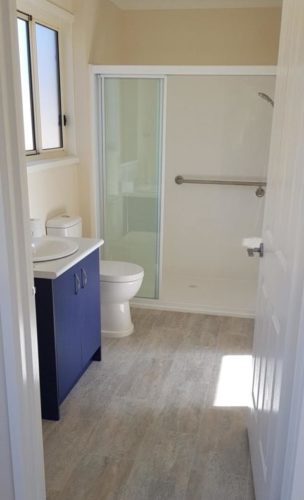 Modern in Crib Point
This striking bathroom is one of the best modern bathroom designs we've seen in any of our granny flats. The frameless mirror, feature tiles, dark cabinets, contrasting black shower frame and the concrete-look flooring all come together perfectly.
The Crib Point granny flat rivals any modern house interior that we've seen, proving that granny flat bathrooms certainly don't need to be boring!
Practicality Plus in Ferntree Gully
The use of bathroom space to create additional storage is one of the best ideas we've seen in any granny flat.
Just check out all of the cupboard space we managed to integrate into the combined bathroom and laundry design! It just goes to show that you don't need to give up everything in order to downsize.
The white cupboards against the soft grey walls and light timber-look flooring look clean and contemporary.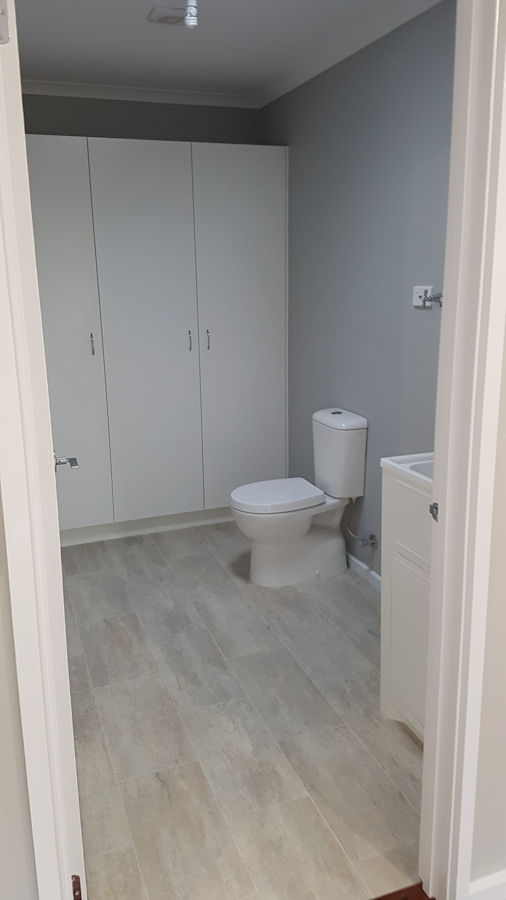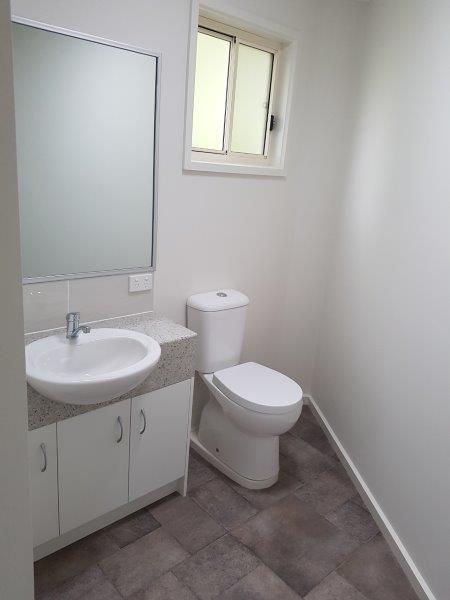 Custom Fit in Scoresby
This Scoresby granny flat is one of our most intriguing custom designs in our long history! The whole design was made to fit a very odd-shaped backyard space, which meant some very creative thinking was in order.
As you can see, the bathroom didn't lack for functionality, storage or quality!
Accessibility in Ringwood
Granny flat bathrooms aren't just for looks! We often need to adapt the design to allow for accessibility options, such as hand rails. The beachy colour selections and stunning timber-look floors give this bathroom a lovely coastal feel.
At Premier Homes and Granny Flats, we can cater to all style preferences, size requirements and accessibility needs.
Get in touch with us to discuss your own bathroom wishes, or check out some of the brilliant bathrooms on display at our granny flat village in Bayswater North.