Types of Entrance Doors – Premier Homes and Granny Flats
16 Mar, 2017
Choosing the right type of entrance door will have great impact on how your granny flat looks and feels. It is more often than not the first thing your guests will see. So you will want to leave a good impression, right?
Here at Premier Homes and Granny Flats, we are able to customise all the fittings within your Granny Flat, including entrance doors.
Take a look at just a few entrance door options you can choose from for your granny flat.
A Timeless Look.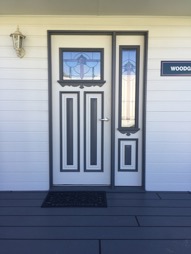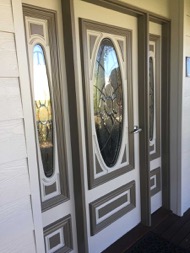 These entrance doors have a very rustic / cottage appeal to them. With decorative stained glass on the main door and side panel/s, these doors will certainly add an artistic quality to your home.
Entrance doors with stained glass are a timeless look that will be enjoyed by yourself and future generations to come.
Timber Beauty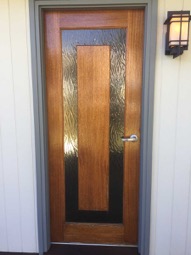 Timber entrance doors bring a feeling of warmth and beauty to the home that no other material can ever match. This door features a patterned glass insert, allowing for the natural light to beam through as well as maintain your privacy.
Sleek and Modern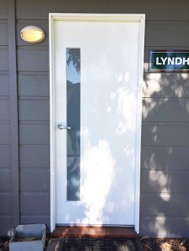 This super sleek white door would suit just about any granny flat. We love this entrance door because you can dress the entrance just about any way you'd like. While it does fashion a more modern look, the clean lines and basic white colour is like an empty canvas. It has just the right amount of glass inserted on the door to allow some lovely vitamin D in as well!
So what do you think? Which door is your favorite? Premier Homes and Granny Flats can help you make the right choice. Get in contact today and let us guide you through the selection process, giving you the confidence and security you are looking for.
Premier Granny Flats- "Keeping Families Together"