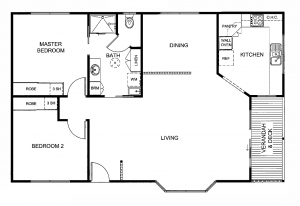 Granny Flat Plans – The Layout of a Perfect Flat
1 Sep, 2017
Here at Premier Homes and Granny Flats, we want your Granny Flat design to suit you. We have a range of Granny Flats in our Bayswater North Display Village ready for you to explore.
Here we have three examples of our Granny Flat plans, including the Lyndhurst, the Sterling and the Woodgrove. All of our Granny Flats include all the necessities, with the room placements being customisable to your taste.
The Lyndhurst
The Lyndhurst is a modern Granny Flat, with a 'L' shaped connected dining and living space. The dining area includes a small alcove that comes out a bit further than the main western wall, giving it a dynamic and asymmetrical look.
The open dining and living area creates a spacious atmosphere, perfect for those who love the feeling of a large room.
A contemporary diagonal wall holds the entry to the main bedroom that is about half the size of the living space with included walk in wardrobe and the option of direct access to the bathroom.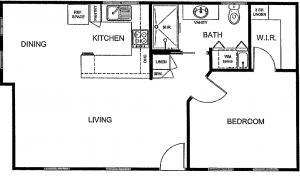 The Sterling
The Sterling is one of our more classic Granny Flat plans and the largest 1 bedroom Granny Flat on display.  Every room is segregated with clean, straight walls, with the kitchen/dining, living and bedroom/bathroom area separated into even thirds – talk about classic!
The dining and living area are still connected in a mirrored 'L' shape for easy access and an open feel. The Sterling is perfect for individuals looking for a straight-forward, classic Granny Flat that has everything needed for comfortable and spacious living at its best.
The Woodgrove
For those who will not be compromised in style and quality the Woodgrove offers 10 and a half squares of luxury living. If you have the space for a slightly bigger Granny Flat (2 bedrooms to be precise!) then the Woodgrove is a perfect contemporary option.
This Granny Flat plan offers a modern and open look to a simple Granny Flat layout. With the large living space with a delightful front view and a partially connected dining room, this Granny Flat won't feel like a flat at all – but like a luxurious, classic and airy home.
The master bedroom has direct access to the bathroom, as well as sitting next door to the second bedroom.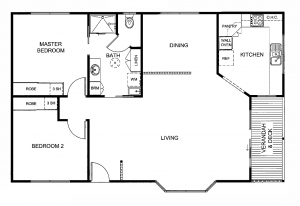 Whether you're an individual looking for a bigger space, or a duo looking for a cosy Granny Flat, the Woodgrove is the perfect blend of contemporary and classic.
For more Granny Flat plans, take a look at our other Display Homes and Granny Flats either on our Granny Flats page or at our Bayswater North Display Village. Contact us at Premier Homes and Granny Flats for more information.