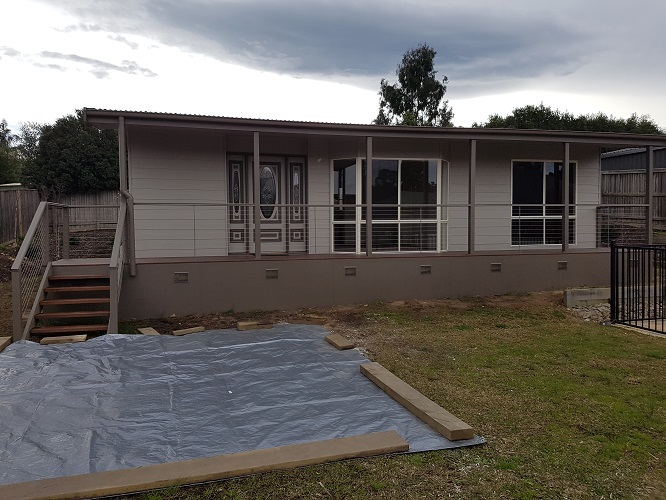 Doreen Granny Flat – The Importance of a Great Exterior!
8 May, 2017
When you look at all the elements of a home, there are some that stand out – kitchens, bathrooms, exteriors…  The lovely exterior of this recent Doreen Granny Flat will be the first thing that all visitors notice!
When you are deciding on a Granny Flat exterior, you need to consider several elements.  First on the list is colour palette.  The owners of this new Doreen backyard home chose to go with a neutral colour palette, giving it a soft look that integrates well with its surroundings.
More Exterior Colours for Modern Granny Flat Designs
Another striking feature of this exterior is the elevation of this Doreen Granny Flat.  While a functional decision, it also creates a sense of grandeur.  We can already see some amazing potential for garden greatness around the perimeter of the house – an elevated granny flat with a beautiful garden brings out the lovely features of a small home!  And with a neutral colour palette, lends itself to any type of garden you could think of!
Here are some fantastic Granny Flat Garden Ideas
The façade of this Doreen Granny Flat has a few beautiful and balanced design elements that also serve a purpose! The balcony railing around the deck is streamlined and neutral – enough to be appreciated, but it doesn't overpower the exterior of the home.  Of course, when you have visitors, you want to ensure you can safely sit outside and enjoy a cuppa.  This is particularly great for those who need extra support for balance, or for when the grandkids pop over to visit!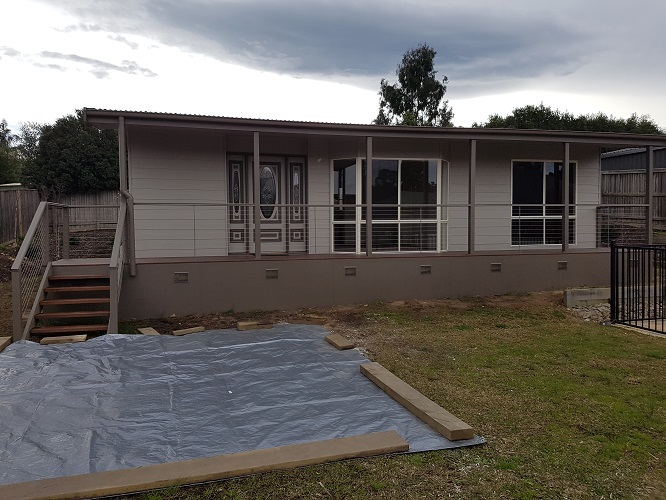 The stained glass doors and bay window in the front maximises the natural light entering the home – we all know that a bright home is a happier home!  With this large bay window and the gorgeous stained glass door feature, the owners of this Doreen granny flat can feel confident that they are getting the most out of the sun.
Click here for more Types of Entrance Doors
It's important to make a good first impression, and to feel a sense of pride in your home, whatever size it is!  Just like the Doreen granny flat, you can create a granny flat exterior that reflects your style and complements its surroundings, while incorporating elements that serve an important purpose.
Premier Homes Vic has a team of design experts on hand, ready to help you with all design and colour selections. To find out how we can help you build a beautiful new granny flat, contact us today or see us in person at our Bayswater North display village.