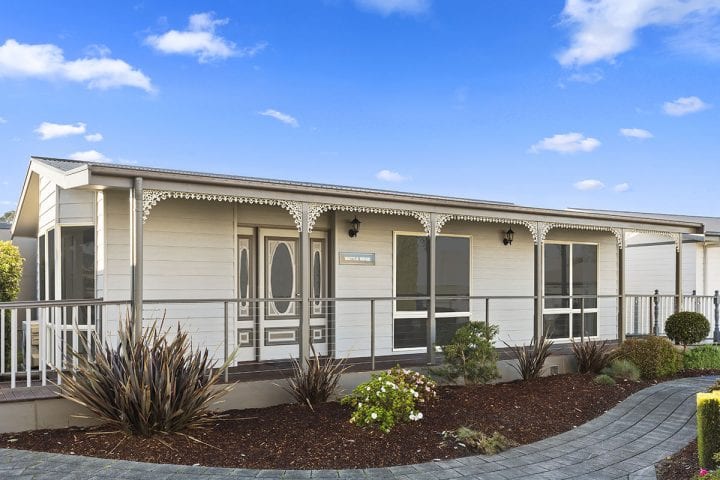 Meet… The Wattle Ridge Granny Flat
13 Nov, 2018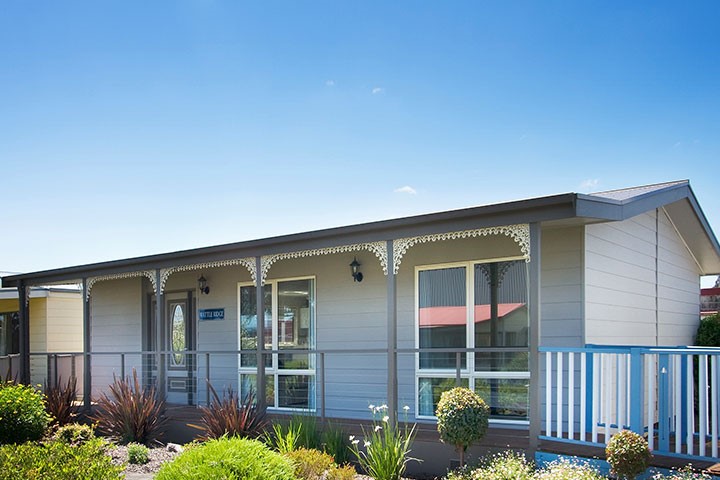 This fine example of quality modern living is our best-selling granny flat to date. While the exterior may be simple and unassuming, the interior feels anything but.
The moment you walk through the feature front door- a mastery of modern lead lighting- you are presented with a home that feels welcoming and well loved.
The open plan living and dining area flows effortlessly through to the kitchen, which boasts a large bench space and plenty of storage. The dining area is beautifully framed by a bay window. Altogether, the use of space in this particular part of the house gives it a feeling of greater size and a family atmosphere.
The bathroom is spacious and uses innovative design to maximise the functionality of the room. The shower is large enough to allow for a wheelchair and the low-lip base makes for easy access. The toilet is separate and conveniently situated next door to the bathroom.
The laundry is another impressive display of skill in harnessing the space provided, once again being used to its full potential. No fuss and completely practical, the laundry also features a back door and ample storage.
At The Wattle Ridge, you can have guests stay over in the quaint and cosy second bedroom. With its discreet built in robe and homey feel, friends and family can extend their stay in comfort. This room could function as a study, a hobby room, extra storage or even just a quiet space to read a book.
The master suit is warm, inviting and spacious. Plush carpet and a rich, earthy tone for the feature wall helps to create a soothing environment. With a mirrored, built in robe and enough room to comfortably fit a queen sized bed, the master suit makes no compromise on quality, space or comfort.
Overall, there is a reason that the Wattle Ridge is our best-selling granny flat. When people are looking for a house they are looking for a place of comfort and safety, a place to build memories with family and friends and share quiet moments with loved ones.
No matter a persons' age or background, a house should feel like home. That is why all of our granny flats are customisable. With the help of our lovely creative team, you can stay close to your family and spend your days in a house that will feel like home the moment you walk through the door.
Come and visit us today at 110 Canterbury Rd Bayswater North and take a tour through our display village, where you can discover for yourself all the things that The Wattle Ridge has to offer.