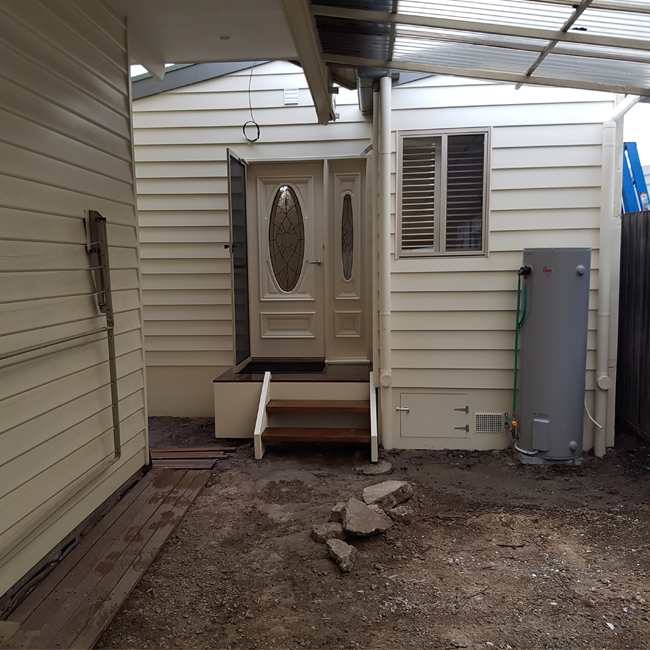 Watsonia North Granny Flat – A Snug Backyard Getaway
30 Nov, 2017
Watsonia North Granny Flat – A Snug Backyard Getaway
Here at Premier Homes and Granny Flats, we understand that sometimes it is difficult to work with the space you have available. However, we can work with the space you have and customise transportable/demountable units to suit you.
Behind this home in Watsonia North lies a Granny Flat, it is precisely colour matched to the front home tying both buildings together. The same cream panels run along horizontally, with a gorgeous glass panelled door with additional matching side light.
This Watsonia North Granny Flat is fully equipped with the necessities – kitchen, bathroom living room and bedroom. Heating, cooling and window coverings are just some of our great extras we have available. It is amazing how so much can be contained in such a small space! Not to mention, it is extremely accessible from the main home as the entrance to the unit is right near the back door.
Premier Homes and Granny Flats aims to help work with your environment and the space you have available. Just like this Watsonia North Granny Flat, we can help create, customise and fit your transportable/demountable unit to your space while adhering to your needs and Victorian Granny Flat laws.
Contact us at Premier Homes and Granny Flats for more information on how we can work with your space. Also take a look at our Bayswater Display Village for more inspiration for your next Granny Flat.