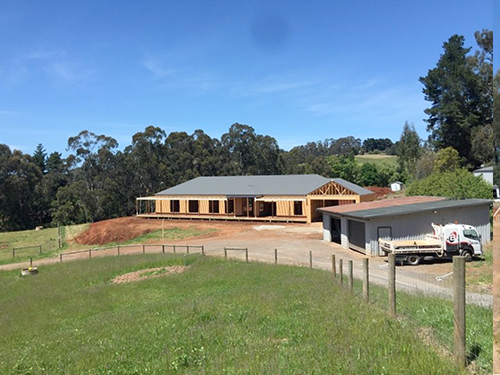 Wandin East Dwelling Work in Progress!
23 Nov, 2017
Wandin East Dwelling – Work in Progress!
Here at Premier Homes and Granny Flats, we want you to know exactly what goes into the process of creating your home! This Wandin East home is in the process of being built in a lovely spacious plot of land.
As you can see, it's a work in progress – however our builders work hard to keep it clean and organised as the process goes along.
This Wandin East Home is a great example of a dwelling being built on a spacious block of land that has plenty of room for external features.
Adding a Verandah & Deck to your home is one option. A Verandah & Deck is a great addition to your home; it gives shade, blocks out rain and is the perfect spot for when having visitors over. It can act as a relaxing outdoor space.
Read more about Verandah ideas on our past blog here.
For a visual appeal, why not add a garden to the front of your home? Creating a small garden out the front of your home will bring a sense of warmth to the whole area. A garden can also act as a decorated pathway between the driveway and the front entrance of your house.
Contact us at Premier Homes and Granny Flats for more information on our dwelling options. Also visit our Bayswater Display Village for more inspiration.