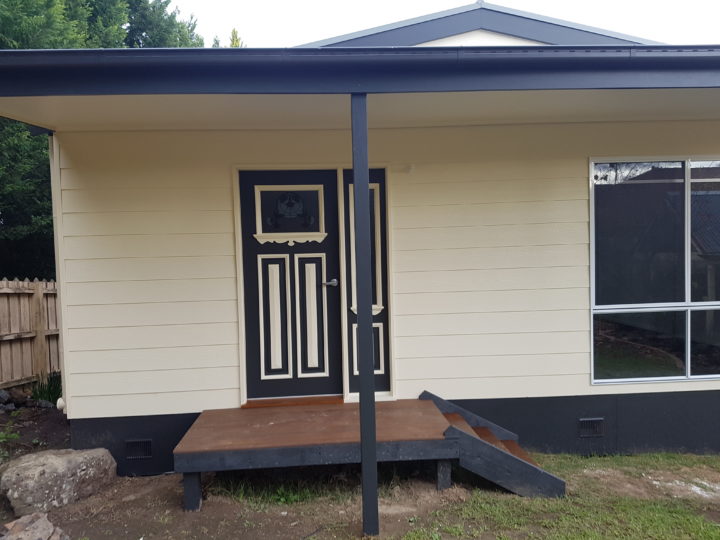 Templestowe Granny Flat – Vintage flavour for a Modern Home
22 Jun, 2017
Here at Premier Homes and Granny Flats, we recently established a beautiful Templestowe Granny Flat.
We strive for our Granny Flats to be modern and well-equipped with the necessities for a home. Not to mention, have a modern and sleek look! However, each Granny Flat is individual and has its own unique flavour. In this case, the stunning exterior of the Templestowe Granny Flat offers an impression of vintage elegance.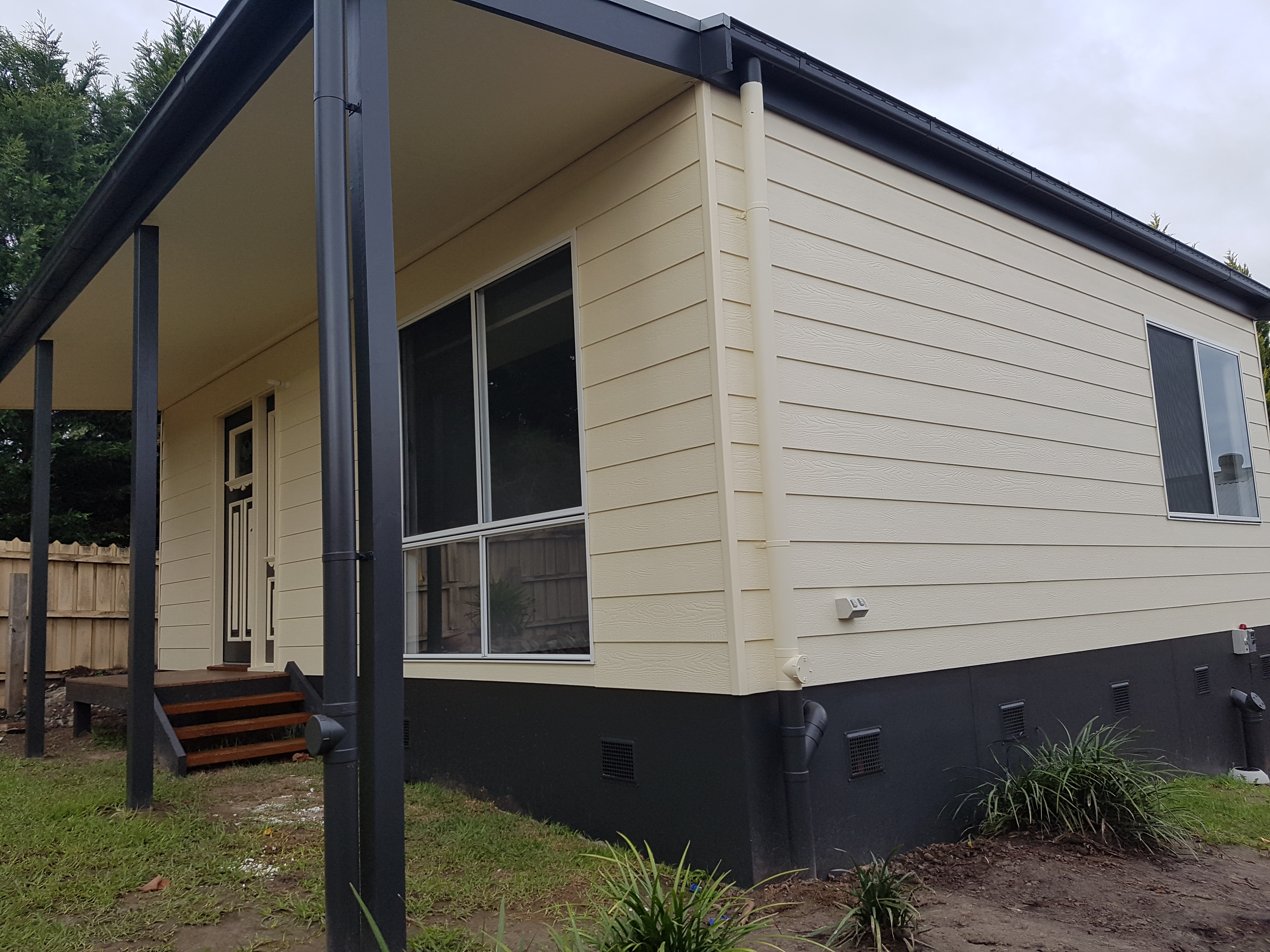 When you first see this Templestowe Granny Flat, your eyes wander across the gorgeous panels which are painted soft beige with a yellow undertone. The yellow-beige gives off a rustic and antique aesthetic, which complements the grey-blue verandah posts, roof and skirting boards.
The muted yellow-beige also gives off a sense of joy and freshness. After all, yellow is a happy colour and paired with the grey-blue, this doesn't bring down the happiness at all. In fact, it reinforces it by acting as a juxtaposition, making the yellow-beige even more prominent without over shadowing the blue.
This Granny Flat is reminiscent of a forest cottage, the colours nicely contrast with the existing foliage and grass surrounding the flat. However, this Templestowe Granny Flat comes with an added modern twist. The straight edges and the uniform lines along the panelling gives off a clean and simple feel. Like some of our previous work, they all have an underlying and connecting theme of the contemporary.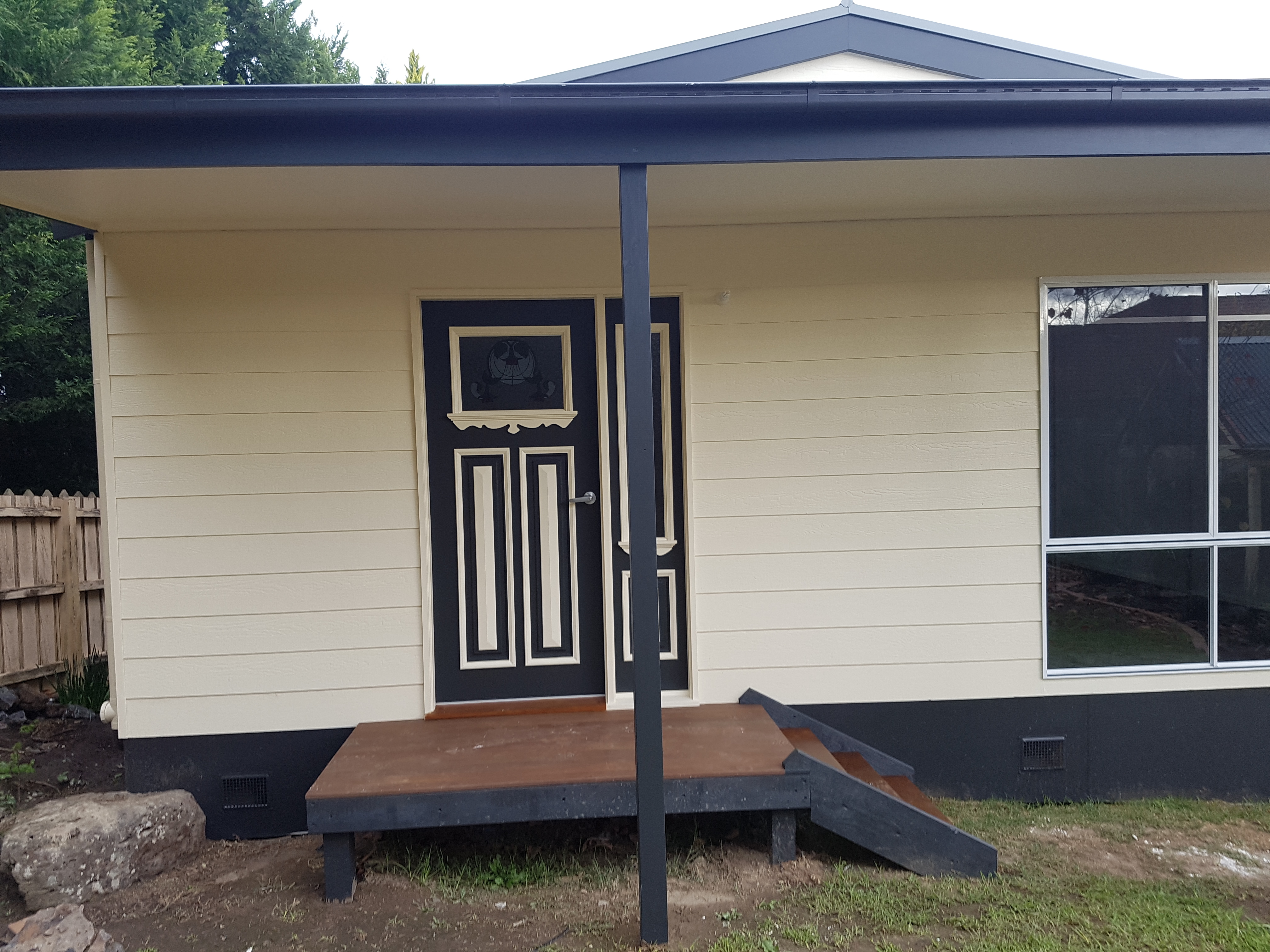 Another key factor that brings to life this subtle vintage look is the striking front entrance! The door offers a timeless, classic look, that fits well with a 'vintage' or 'cottage' theme.
The trim at the bottom of the stained-glass window is quite European and rustic, with its subtle carved waves. The stained-glass itself has a simple yet fitting design, offering minimal view into the home, but enough light to shine a beautiful pattern across the room on a sunny day.
The small peep window on the side offers the home owner a chance to view potential visitors without seeming out of place with the rest of the door. It maintains the same colour pattern and style, for a seamless look.
The colour of this front entrance matches perfectly with the rest of the Granny Flat, using the same yellow-beige and grey-blue tones. The grey-blue is more visible and prominent, to stand out from the rest of the home.
This entrance door is the perfect way to emphasis the vintage theme whilst not overpowering the modern look.
More on types of Entrance Doors.
Here at Premier Homes and Granny Flats, we want our Granny Flats to reflect many subtle themes and to maintain a modern appeal. This Templestowe Granny Flat is the perfect example of balancing the old and the new.
For more information or help on building your granny flat, contact us today!