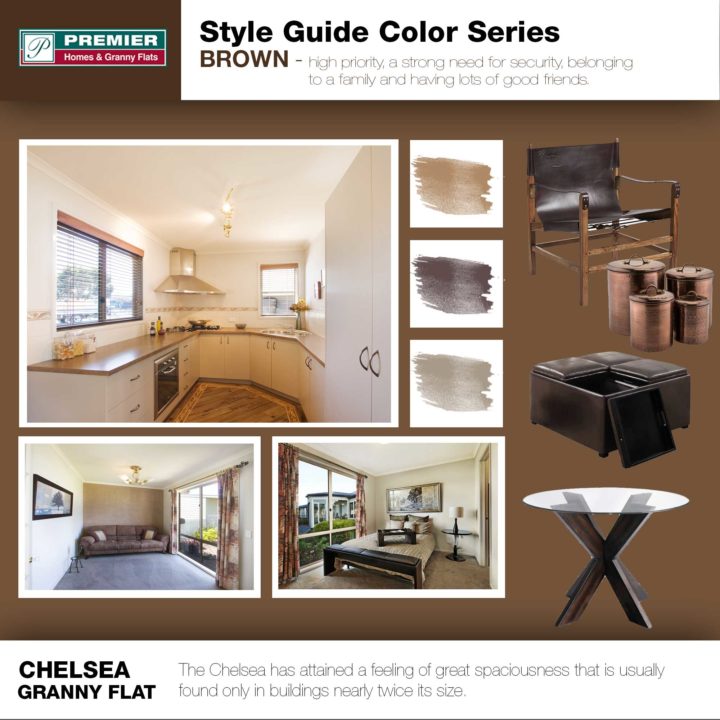 Style Guide Color Series – BROWN Granny Flats Melbourne
20 Oct, 2016
BROWN Granny Flats Melbourne – Living rooms with browns and beiges tend to look very inviting, peaceful, comfortable and calming.
BROWN Granny Flats Melbourne – There is a vast array of fabulous and stylish combinations of browns and beiges which are sure to leave your friends and family impressed.
The use of brown and beige truly has a timeless and classic look. The amount of combinations provides limitless prospects for designing the interior in almost any style.
Brown is a neutral and natural colour, the use of very rich ranges of different shades add a feeling of stability to the interior.

If you are the kind of person who appreciates peace and comfort, rather than light and bright energetic tones within your home, then the brown pallet is the choice for you!
Beige and brown always work well together, follow these basic principles and you really cannot go wrong – opt for darker brown shades as an accent, using the darker brown as a backdrop, it will accentuate any lighter shades you have implemented.
A dark wooden coffee table, leather sofa and a beige shaggy rug would add a lot of charm to the room.
You can also use brown to separate colours. The combination of brown and beige shades can be combined with different shades of blue, mint green, purple and pastel colours.

Elegant and sophisticated choices of brown would include:
Cocoa – Strong colour to use as an accent colour.
Chocolate  – Yes we all love to eat chocolate! This shade is soothing when used in conjunction with beige.
Natural wood – Suits earthy tones.
Cinnamon – For a romantic look and feel implement cinnamon brown.
You can dress your brown themed home with furniture, such as a brown sofa – any brown sofa will give of a lavish appearance irrespective of the type of material. Depending on the size of your interior space, you can opt for a modular, sectional or corner sofa.
Are you considering using shades of brown within your home? Maybe you are looking into purchasing a Home or Granny Flat? Get in touch with us and let us know! We'd love to hear from you!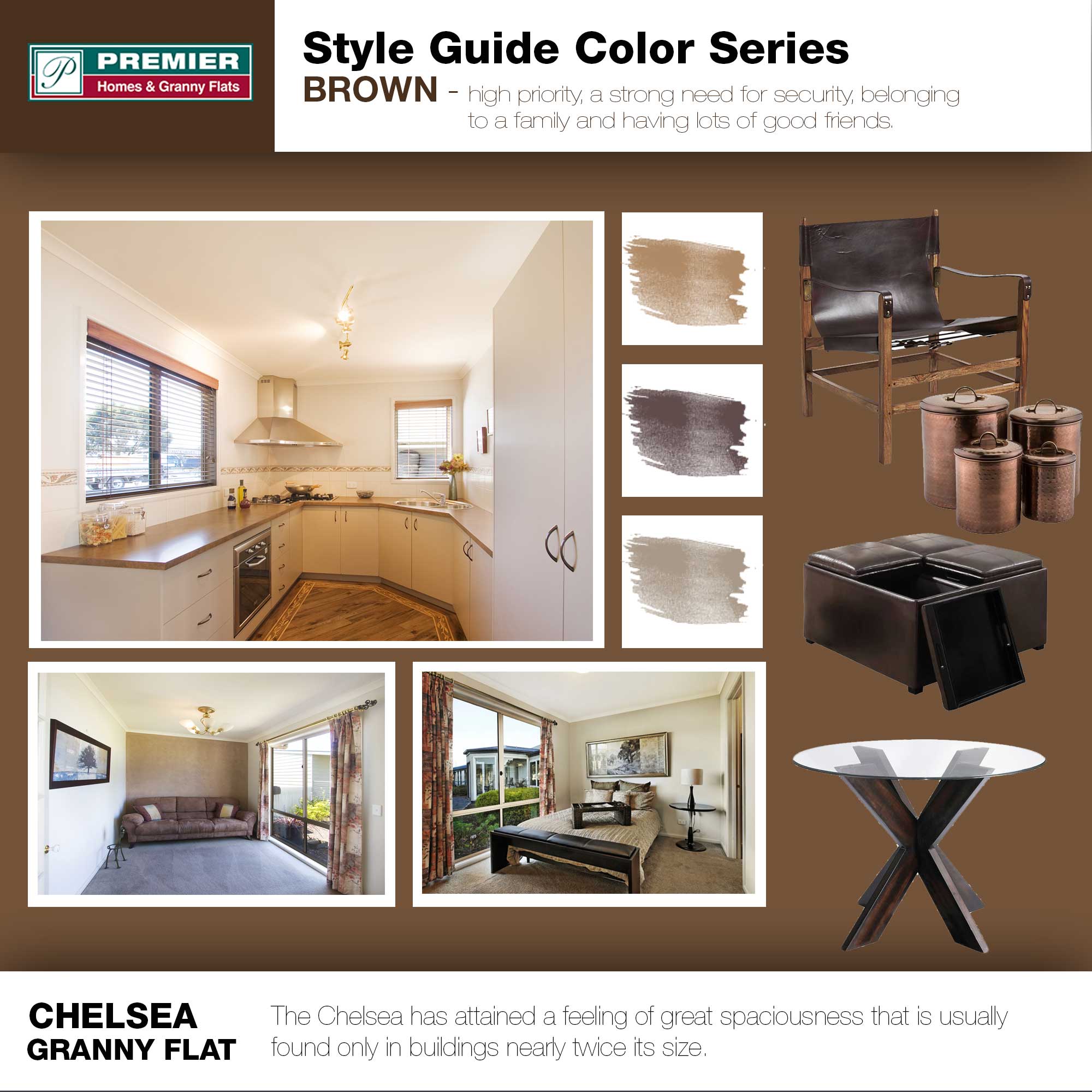 Premier Homes offers a wide range of products including Family Homes, Granny Flats, Dual Occupancy Units, Motel-style accommodation and larger Commercial structures such as Meeting Halls and Group Accommodation Buildings.
With its innovative In-House Design Team, Premier is able to create whichever style of Home or building you require. Premier's design team is dedicated to designing Homes to please.
Visit our Display Village and speak with one of our experienced Consultants today:
110 Canterbury Road,
Bayswater North, VIC 3153
Premier Homes & Granny Flats are open
Monday to Saturday: 9am to 5pm
Sunday & Public Holidays: 11am to 5pm.
For more information about Premier Homes & Granny Flats, contact our Display office on 03 9761 6699 or visit our website – www.premierhomesvic.com.au