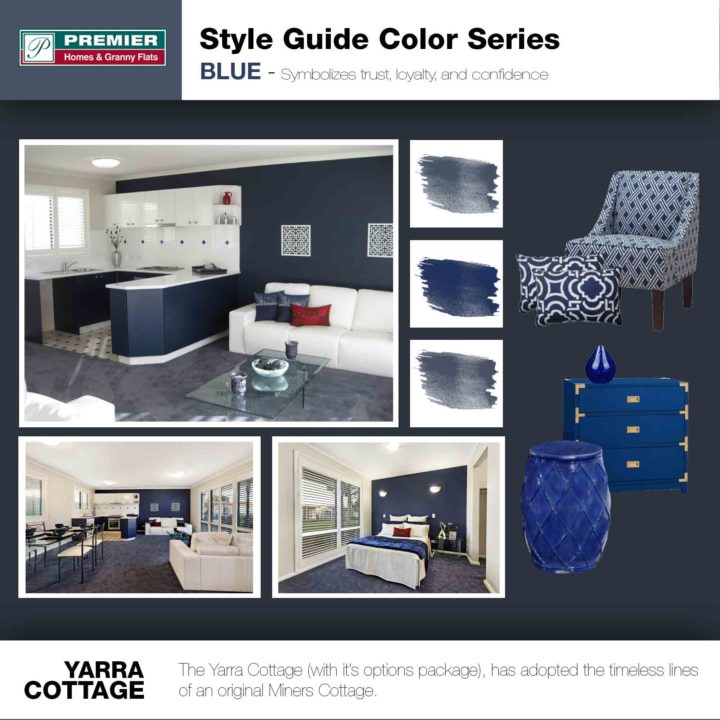 Style Guide Color Series – BLUE Granny Flats Melbourne
11 Oct, 2016
BLUE Granny Flats Melbourne – Feeling blue? It's not a bad thing! We just love the color blue, especially cobalt blue or royal blue!
BLUE Granny Flats Melbourne – When picking a color for your home it is important to consider how it influences your mood and feelings. The meaning behind each color is very important and can play a large part in the color choices we make.
The color blue is associated with the following : Cool, Tranquilizer, Healing, Peace Bringing Properties, Relaxing, Restful, Openness, Expansiveness, Sedative, Formality, Water Association, Fresh, Airy, Sense Of Wellbeing, Refreshing, Lowers Blood Pressure, Justice, Slows Respiratory Rate, Antidote For Red, Conceptual, Responsible, Serenity, Loyalty, Dogmatic, Pragmatic, Rigid, Manipulative, Conservative, Authoritative, Astute, Balancing, Masculine, Spatial, Heavenly, Trust, Loyalty, Confidence.
Given its association with trust, loyalty, and confidence, if you work from home or are considering buying a place which can accommodate your business, implementing the color blue would certainly be something to ponder. The implementation of a rich, bright, blue within a work space can evoke, trust, loyalty and confidence of your place of business from your clientele.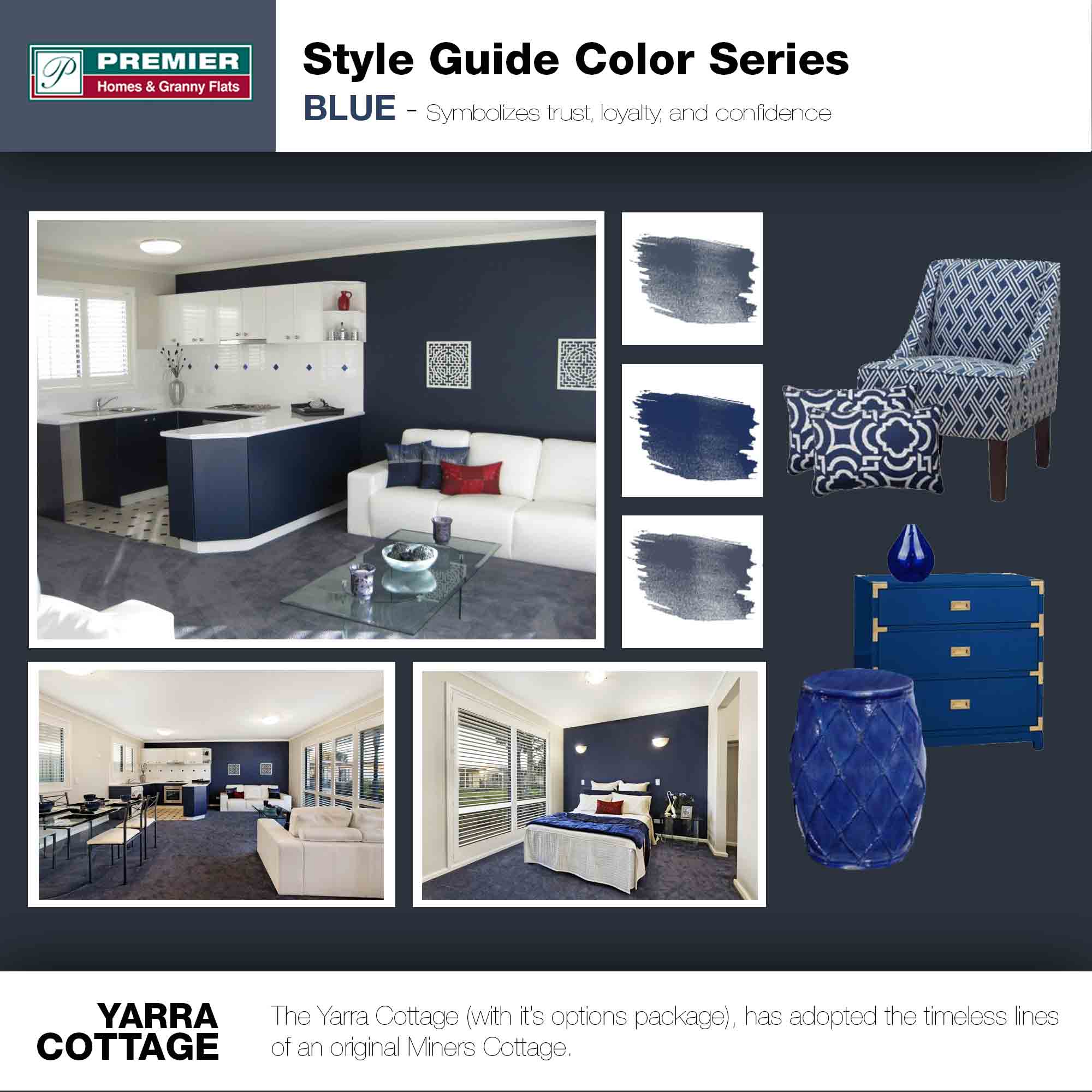 Blue is a very popular choice of color due to it's calming presence within a home. It would definitely suite bedrooms, bathrooms, and living rooms.
Living rooms, in particular, would be perfect for this color, as you spend most of your time within the living room /common room space. Having a nice calming blue to set the tone for your day is certainly very appealing.
Are you considering using shades of blue within your home? Maybe you are looking into purchasing a home or granny flat? Get in touch with us and let us know! We'd love to hear from you!
Premier offers a wide range of products including Family Homes, Granny Flats, Dual Occupancy Units, Motel-style accommodation and larger Commercial structures such as Meeting Halls and Group Accommodation Buildings.
With its innovative In-House Design Team, Premier is able to create whatever style of Home or Building you require. Premier's design team is dedicated to designing something to please.
Visit our Display Village and speak with one of our experienced Consultants today:
110 Canterbury Road,
Bayswater North, VIC 3153
Premier Homes & Granny Flats are open
Monday to Saturday: 9am to 5pm
Sunday & Public Holidays: 11am to 5pm.
For more information about Premier Homes & Granny Flats, contact our Display office on 03 9761 6699 or visit our website – www.premierhomesvic.com.au           Save Save Save Save Save Save Save Save Save
Save
Save