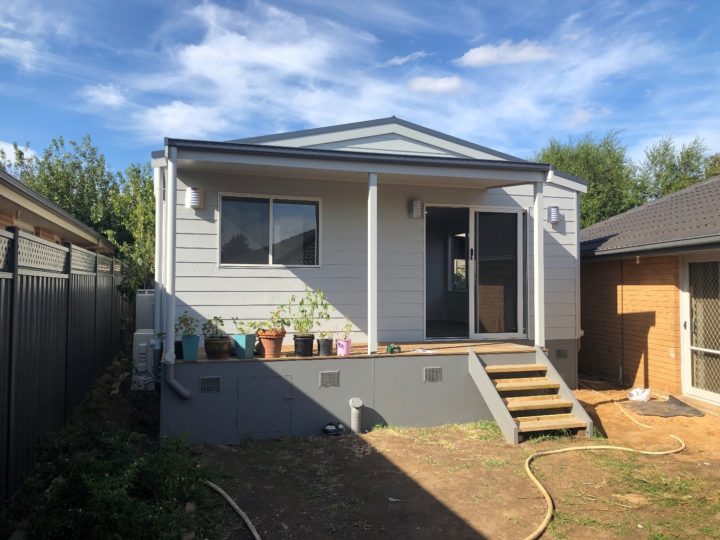 Small Space, Big Designs – Narre Warren & Ringwood
31 May, 2019
Here we have a couple of examples of Premier Homes' skill and ability to provide quality housing despite restricted space and unusual property dimensions.
As custom builders, we excel at creating homes and designs that are functional, thoughtful, and fit the space available.
Each client has their own individual tastes and needs, and we take pride in being able to meet these needs in a way that is both realistic and exceptional. As one of Victoria's longest running granny flat builders, we are a reliable and knowledgeable construction company and are constantly evolving to utilise the very best materials and methods in our builds. 
Both of these granny flats needed to fit into a small and relatively awkward space. Special consideration had to be given to the existing dwelling, as well as the neighbouring properties, boundary lines and easements.
A lot of our customers are surprised by how much we can achieve in the face of such restrictive parameters. Once you have discussed your preferences and needs with one of our building consultants, we will organise a site inspection to determine where on your property we can build, and the size of the area we can use. Once the site inspection has been completed, our building consultants will then be able to recommend the appropriate granny flat designs available, or alternatively, create a customised design to best suit your needs and the available space.
While each of these two granny flats are quite different in design, our building consultants and construction team faced the same challenge in regards to the size and shape of the area they had to work with.
Take a closer look at the customised Fairhaven (built in Narre Warren) and the fully custom-designed granny flat in Ringwood to see what sets us apart from the competition.
Space-Saving Bathroom Design
The bathroom in the Fairhaven has enough space to comfortably contain a large shower, vanity, toilet and laundry facilities. The molded fiber-glass shell makes the shower easy to clean, while the Hand held shower on rail, combined with the flick-mixer tap will assist those with arthritis and limited mobility.
There is ample space to maneuver a wheelchair or mobility aid into and around the bathroom. The allocated laundry area is space-saving, convenient and easy to access.
A view of the bathroom in the custom-designed Ringwood granny flat. The spacious shower has a molded fiber-glass shell and a low lip base, which reduces trip hazard and makes it easily accessible and easy to clean. Situated in the bedroom, this ensuite style bathroom ensures privacy and convenience.
No Shortage of Storage Space
Additional storage space in the second bedroom/study of the Fairhaven is a convenient and thoughtful addition that could serve as a place to store extra linen, clothing, vacuum and other cleaning items, or as a storage space for craft supplies.
Plentiful Pantry Space
Due to the unusual dimensions of this custom Ringwood granny flat, our building consultants had to get a little creative when designing the kitchen storage. Our cabinet makers rose to the challenge admirably.
Smart Choices to Save Space
Hidden behind discreet bi-fold doors is the laundry space. The doors match the cabinetry in the rest of the kitchen, which is where this Hide-away laundry resides. Every bit of available space has been utilised in the best possible way, ensuring that this Ringwood granny flat feels like a comfortable, functional home.
Filled with natural light, the Fairhaven kitchen features a serviceable design, with plenty of bench space and storage.
The custom designed kitchen in the Ringwood granny flat is light, open and spacious, with lovely garden views, classic white cabinetry and modern grey accents. By allowing a large amount of open space, the risk of the unusual angles and proportions of this granny flat becoming confining and restrictive has been removed. The space has a practical and organic flow, which creates a natural transition from the living room through to the kitchen.
Custom designed floorplan for the Ringwood granny flat, showing off the unique dimensions. Designed to fit the available space on the property, the floorplan really showcases what Premier Homes can achieve as one of the leading granny flat construction companies in Victoria.