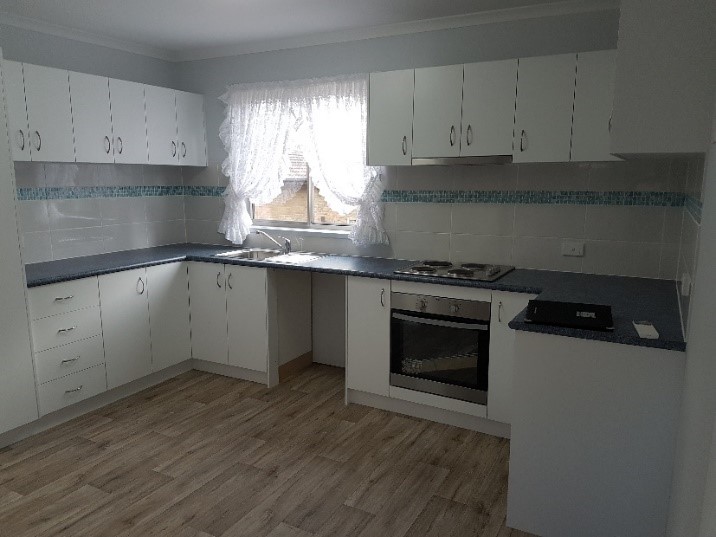 Ringwood Granny Flat – A Tour of our Latest Work
11 Nov, 2017
Here at Premier Homes and Granny Flats, we love showing you what we have recently been working on.
We want you to see the ins and outs of all of our Homes  and Granny Flats and to give you lots of inspiration for your next home.
Here we have our Ringwood Granny Flat after completion inside the living room. The front of this Granny Flat looks out the garage and garden. The large bay windows are perfect for the warmer months to let in some light and for cooling when opened. They are also great for the colder months, so you can still enjoy the view while you are bundled up inside.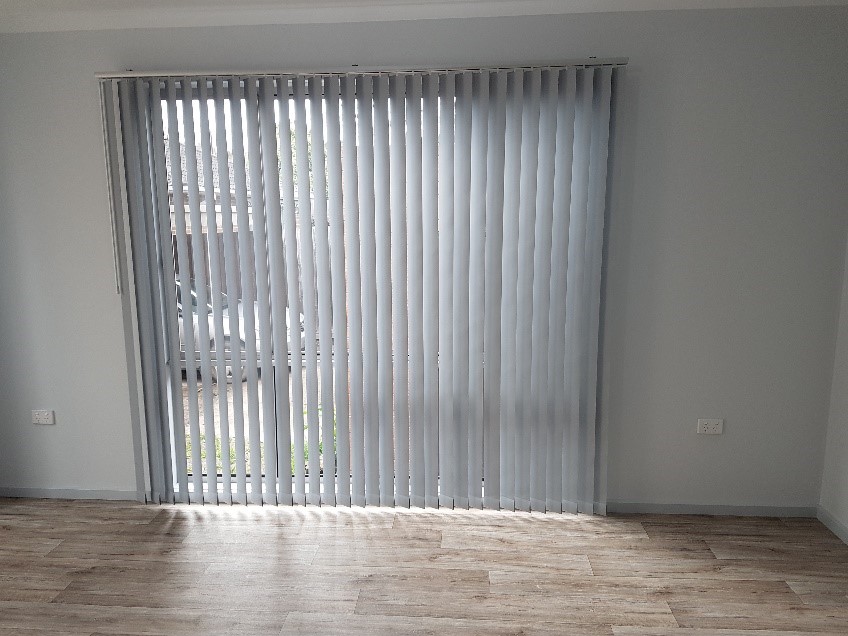 The next stop is the kitchen. This Ringwood Granny Flat displays the impression of space with its open plan kitchen. The benchtops are all lined up against the wall with a simple and classic tile splashback wall. The space is very easy to navigate and to work in, and would be a perfect option for those needing a granny flat with wheelchair accessibility.  By opting for an island-free kitchen space, your entire flat is expanded and easy to access.
Here, the colour scheme of the subtle blue and pure white blends perfectly with the light brown floorboards. This theme moves through the entire Ringwood Granny Flat and keeps the same fresh look throughout.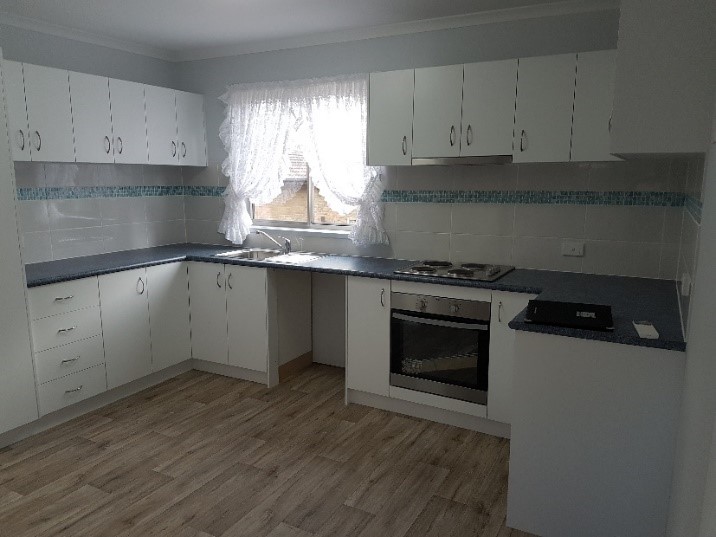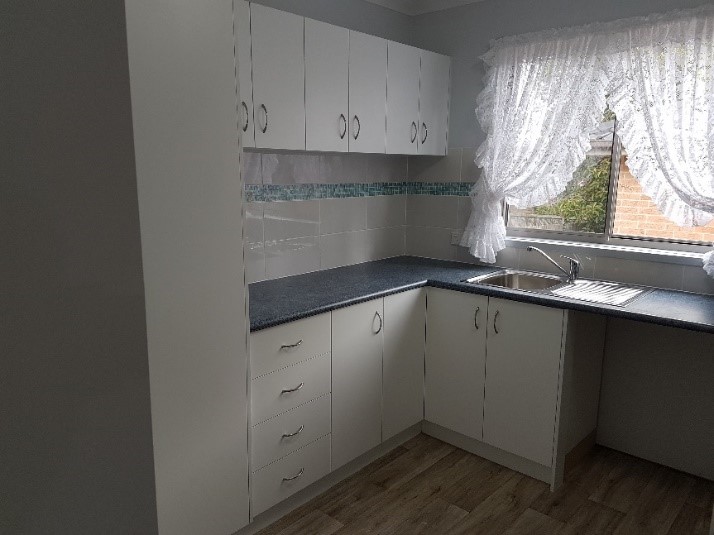 Next, we arrive at the bathroom. This bathroom feels roomy and inviting with its fresh, modern theme and accessible area. The shower, sink and toilet all share the same area with built-in rails to aid with daily tasks. This layout is perfect for independent elderly family members or codependent tenants and their carers – it's spacious, has all the necessities and looks beautiful!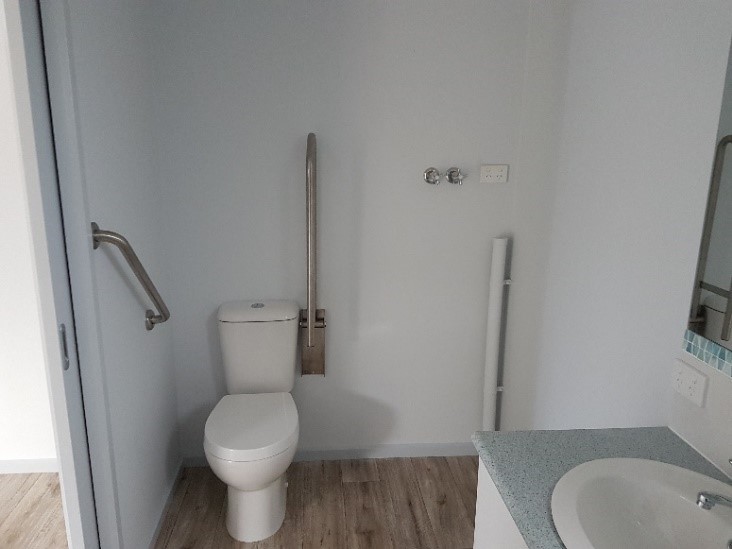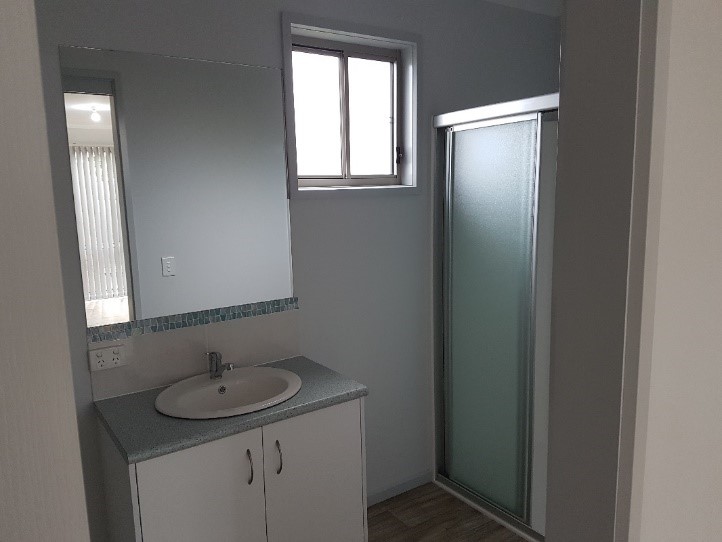 We now reach the entry way to the bedrooms. The continuous floorboard looks seamless and stunning as they expand into the bedroom spaces – especially with the huge amount of light these windows let in!
Inside the bedroom, we can see the closet, cleverly designed with full-length mirrors. A delightful illusion is created; by using mirrors in your Granny Flat, you create more 'space' and open up your room exponentially.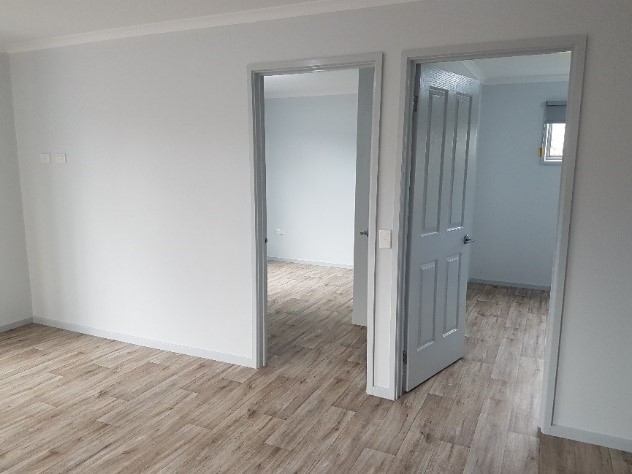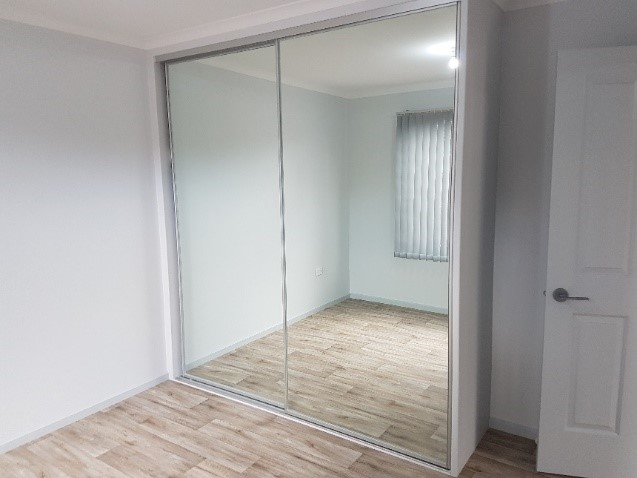 We pride ourselves on every little detail here at Premier Homes and Granny Flats.
This Ringwood Granny Flat shows how design is important to us and so is consistency! For your next Granny Flat or transportable unit, contact us at Premier Homes.