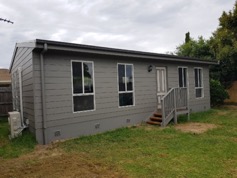 Lysterfield Granny Flat – Natural Finishes in a Modern Home
19 Apr, 2018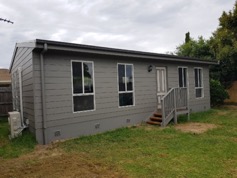 When you look at this Lysterfield granny flat, a number of things might jump out at you!
There is the subtle exterior that fits perfectly in a garden setting, the clean interior that makes it feel so much bigger, and natural tones that suit this Lysterfield granny flat to a tee!
The home's exterior is neutral, while still being a lovely addition to the property.  Large windows maximise the sunlight, and help to make the interior bright and roomy.  The outside of the Lysterfield granny flat has been completed with a heritage style porch light – necessary for getting in and out at night-time.
Once you enter, the modern yet natural finishes take centre stage.  The kitchen will no doubt become a much-loved hub for family and friends, with high quality finishes and fixtures and loads of storage.
We love the contrast of the hard floors of the kitchen against the muted neutral carpet in the living area, and think it matches beautifully with the colour palette in the kitchen.
Soft browns, stainless steel appliances, and plenty of bench space all make this a kitchen worthy of a full-sized home!
Like many other Australian kitchens, this one is home to a number of handy appliances and there are plenty of power points to go around.
What about the rest of the Lysterfield granny flat?  The quality features and design certainly follows through the entire home, with a consistency in colour choices and materials.  The bathroom and laundry also include a feature tile that adds a modern twist on timeless, natural style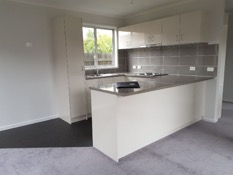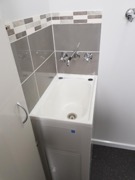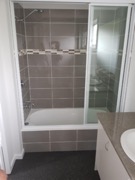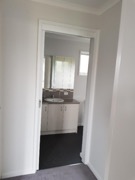 For other examples of granny flats with natural finishes, check out these past building projects at Crib Point and Kilsyth.
When it comes to design and colour selection, Premier Homes and Granny Flats have a professional team on hand to help you make the right choices for your new home.  Downsizing does not have to mean compromising on quality or style, and this Lysterfield granny flat is a wonderful example of this!
If you would like to see what other options are on offer, or find out more about our range of granny flats and homes, contact Premier Homes and Granny Flats today, or pay us a visit at our Display Village in Bayswater North.