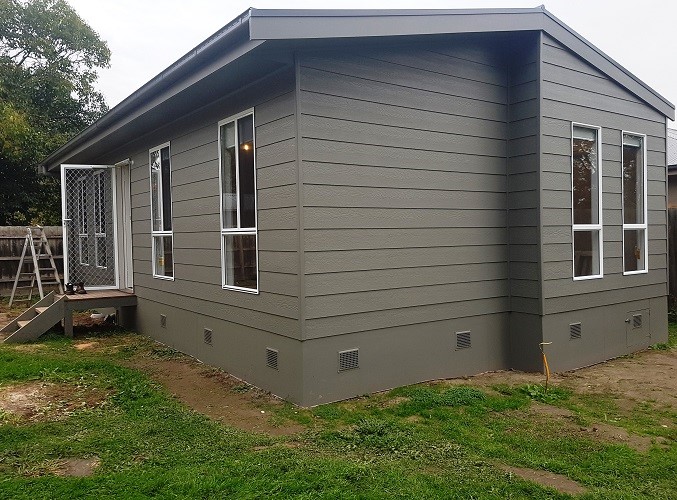 Kilsyth Granny Flat – Neutral Modern Granny Flat Style is the Perfect Fit!
14 Jun, 2017
With a large, open backyard ready for building, this Kilsyth Granny Flat ticks all the boxes!
The Kilsyth Granny Flat we recently built illustrates how a neutral, modern Granny Flat exterior can make the most of an open backyard.  The Granny Flat looks fantastic, while still being unobtrusive.
Yet to establish a garden in the backyard of this Kilsyth Granny Flat , the owners have opted for a  style that fits perfectly now, and well into the future.
We like to call it "neutral modern"!  With clean lines, a rich and natural colour palette, and modern windows, the style is a marriage of simple, contemporary elements and subtle integration.  Small details, like the extended wall on the side of the Granny Flat, help to break up the straight edge of the exterior, and add an alcove feature inside.
As the surrounding gardens become established, the owners will love filling a blank canvas.  They can choose from almost any style, colour and size when it comes to plants and décor. This Kilsyth Granny Flat design will naturally adapt and blend to suit.
The main exterior colour is highlighted by the crisp white trim, creating a feature from the slimline, modern windows.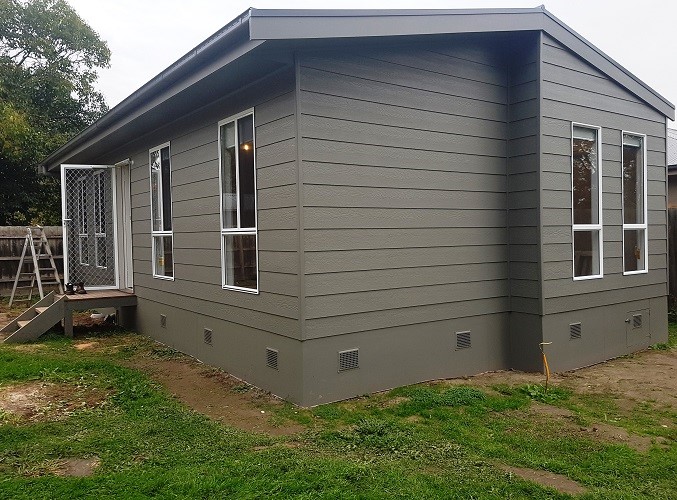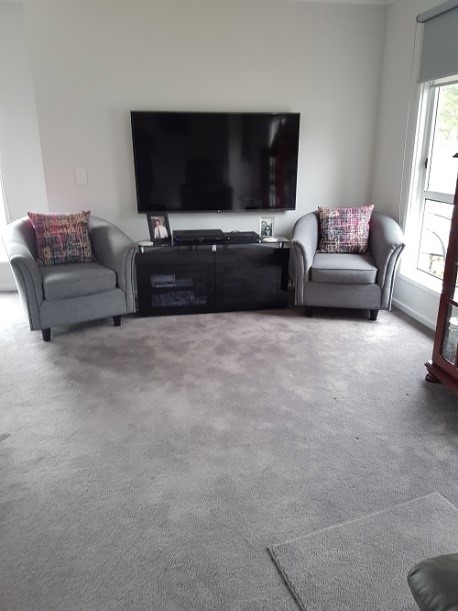 As you can see from the interior photo, there is no shortage of natural light.  When it comes to windows and natural light, big windows are great… but it really does come down to clever orientation of the home and windows in each room.
When you look at the two photos side by side, you can see how the interior and exterior colour choices come together seamlessly.  We love how the rich, neutral colour of the carpet creates a subtle contrast against the fresh, bright walls.  Simple roller blinds, again from a neutral palette, ensure that the windows are free to let the sun in, maximising natural light.
At Premier Homes and Granny Flats, we are committed to helping families build their new Granny Flats, with attention to all the important details – from layout, placement and design, to inclusions and colour palettes.
Just like the owners of this Kilsyth Granny Flat, you can create the perfect backyard home that will keep your loved ones together.  Contact Premier Homes and Granny Flats, or visit us at our Bayswater North Display Village and find out how the details can make the difference for your family!