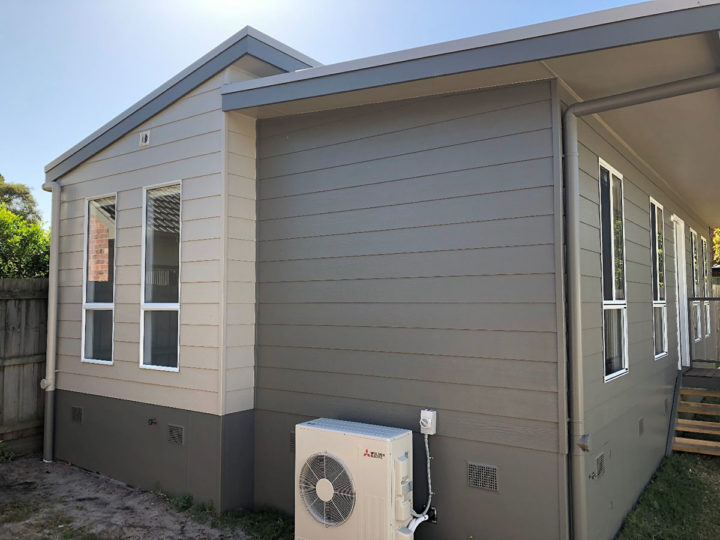 High Class in Highett
14 May, 2019
Only 16 kms from Melbourne's CBD, the suburb of Highett is a bustling hub with an ever-growing population. The homes are a blend of old and new as the constant growth and rejuvenation continues to accommodate its community. For those of us who work in or around the city, but still want the suburban family home, places like Highett are an ideal place to put down roots. Of course, once we find our ideal home, we want to hold on to it and get the most value out of it. We want it to continue to suit the changing needs of ourselves and our loved ones.
Many of us will face the prospect of our parents ageing, and it can become a daunting prospect to provide care and assistance when they are not living close by. Building a granny flat is an increasingly popular solution that allows families to stay together and provide the right level of care to family members who need it.
Finding the right granny flat for you means finding one that meets the needs of the person who will be living in it, as well as suiting its' surroundings.
The Lyndhurst granny flat is a great all-rounder. With a split-gable roof line and asymmetric design, the Lyndhurst gives a nod to the mid-century modern style architecture of the 50's and 60's. With its' super cool retro vibes and its' clever, compact design, the Lyndhurst is well suited to a whole host of locations and environments. It certainly fits in well with the diverse house styles in Highett.
As a part of our 1 bedroom range, the Lyndhurst granny flat is ideal for those who wish to downsize, or for properties with limited space. The interior is cosy and intimate, without feeling cramped or crowded. There is a natural flow through each room and area, and the use of space is thoughtful, intelligent and practical.
Featuring a generously sized kitchen with substantial bench and storage space, a ceramic cooktop and multiple power points. The skylight is a nice touch and will allow plenty of natural light to filter through into the kitchen space. There is a direct flow-on from the kitchen to the dining area. The bump-out wall creates a visually interesting design element and serves to break up the space between the dining area and the lounge, without the need for a wall.
The bedroom is cosy and inviting, with enough space to comfortably fit a queen sized bed, bedside tables and other personal trinkets. The built in wardrobe is large and well fitted with hanging space and shelving both. With the linen closet directly across from the bedroom, storage will be a breeze.
The bathroom is a great display of Premiers' ability to get the very best out of the available space. Featuring a large 1500mm x 900mm molded shower with a hand held shower on a sliding bar and a generously sized vanity with under-bench storage. Another clever way to capitalise on the available space was to include a hide-away laundry. This set up is tucked discreetly away behind bi-fold doors in the bathroom, and makes doing the washing a simple process, while eliminating the need for an actual laundry room.
The colour scheme fits in with the modern trend of neutral greys, browns and whites. The exterior ties in nicely with the interior, featuring taupe grey and creamy beige contrasts. The interior walls are painted a lovely dove grey, which is a softer and less clinical choice than white, and it ties in nicely with the charcoal carpet and ash-brown woodgrain flooring. The counter tops and border tiles pull the whole home together, from kitchen to bathroom. The colour choices favour a modern, neutral style that marries warm earthy tones with industrial greys. This style lends itself to a smaller space, as it gives the sense of being more open and spacious, without it feeling cold and boring.
Our Lyndhurst granny flat really is a great 1 bedroom design with so much to offer. It suits so many different lifestyles and locales and provides its' occupants with a home that is compact, comfortable and inviting.
With the Lyndhurst being one of a wide range of granny flats on display at our display village you can come and see for yourself what makes it so popular. Visit us today and take a tour through all of our beautifully presented display homes. We have something to suit every need.