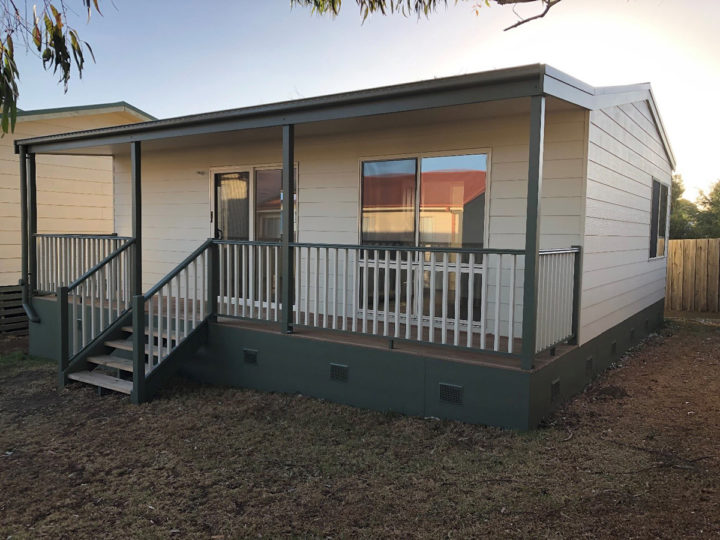 Cute as a Button
22 May, 2019
Here comes that old adage again: Good things come in small packages.
This lovely little Fairhaven granny flat is brimming with character and charm. If you are looking for a no-frills, no-fuss way of living, then the Fairhaven very well may be for you. 
At a compact 7.2m x 6.4m and an area of 46.08m2, the Fairhaven is an ideal choice for properties with limited space and for those of us who no longer want nor need a large family home. It is easy to maintain and efficient to run, with an intimate atmosphere throughout. The large windows ensure that this granny flat is always filled with natural light, staving off any feelings of stuffiness and confinement.
Our client for this build has opted to add an extra meter to the length of this Fairhaven. This has provided the means to create a more spacious second bedroom/study and customise the bathroom facilities.
Rather than having the standard all-in-one bathroom plan, where the shower, toilet and laundry space all co-exist in the one room, this Fairhaven features a separate room for the laundry and toilet facilities.
This enables freer movement and access around these facilities, especially for those who use a wheelchair or mobility aids. The shower has been fitted out with a grab rail, which further enables those with restricted mobility to maintain a good level of independence in day-to-day life activities.
The generously sized kitchen offers up plenty of bench space and easy-to-access storage. The up-graded flick mixer tap-ware is user friendly and a great option for those who suffer from arthritis. An easy to clean ceramic cook-top is a great addition and the large window above the sink completes the sleek and spacious look.
While the petite scale of the Fairhaven may not be for everybody, it is definitely worth considering if wide open spaces are not your thing. We make sure that our small-scale granny flats are just as comfortable and user-friendly as our larger designs, and we can guarantee that you will be pleasantly surprised by just how livable and inviting the Fairhaven is. If it's small-scale living with big potential that you are looking for, then the Fairhaven fits the bill quite nicely.