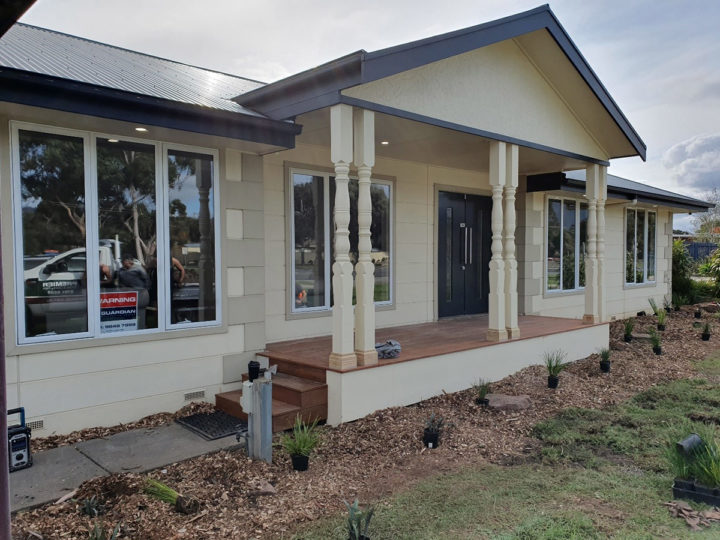 A New Face for an Old Favourite
28 May, 2019
A few months ago we began the exciting process of revamping our display village.
It all began with the much-loved Sterling getting an interior overhaul. It was a great team effort between our colour consultant and our tradies (with some enthusiastic input from the rest of the office), that saw our beloved Sterling receive an updated kitchen and bathroom, as well as all new décor.
The next stage in our revamping process involves giving the Stonehaven II a face-lift. With a fresh coat of paint, a new verandah and deck and a newly landscaped garden, the new-look exterior of the Stonehaven II will be sure to impress.
As the most prominent building in our display village; situated at the front of our property and facing out to Canterbury Road, we are super excited to see the finished product.
Our tradies have taken to the task with gumption, and are making fast work of the demolition phase. If you're coming in to visit over the next couple of weeks, or happen to be travelling past on Canterbury Road, you will see the boys hard at work. Dale, Kevin and Nathan, who are all truck drivers in the Premier fleet, have been having fun on the excavator, ripping out the old garden beds and carting away the tired old decking and verandah. Our carpenters; Michael and Jack, have begun building the new verandah and deck, as well as working on the new garden bed design, while Cam the plumber and Dean the electrician have been keeping busy too. Over the next couple of weeks, you'll see our painting duo; Vaughn and Daniel giving the Stonehaven a fresh new coat of paint.
With the weather still being mild and the bursts of autumn colour all around, a leisurely stroll around our display village is indeed a pleasant way to shop for a new granny flat. For the next few weeks, you get the added bonus of seeing our amazing tradies at work. Be sure to say hello; they are a friendly bunch.
We will keep you all updated on the progress of the Stonehaven and any upcoming projects. Here's to exciting new things at Premier Homes.  
Out with the old, in with the new: Demolition begins on the old deck
Fresh new decking underway
We have made a conscious effort to use Australian native plants for our new garden, which once established, will require less water and will provide important habitat for our native wildlife
From left to right: Dale, Michael and Jack taking down the old decking
Finishing touches on the new garden